Hot and humid environments can pose problems for TENS and electrotherapy patients. Excessive heat and perspiration, increased exercise and activity, and heat related skin irritations may necessitate changes in the routines established for electrical stimulation. For best results, choose electrodes with more aggressive adhesives, larger adhesive areas, and those with gels specially formulated for heat and humidity.
CPR will only recommend pre-treatment skin care products, for difficult electrode applications. The most successful products for these situations are Pre-TENS conductive skin preparation or TENS Clean Cote. Pre-TENS will increase adhesion and electrode conductivity. It reduces irritation between the skin and the electrode and because Pre-TENS is formulated with anti-perspirant, it helps to prevent electrode slippage caused by excessive perspiration or high/heat humidity. TENS Clean Cote is used to disinfect and shield the skin from adhesives. This product will also help to prevent body oils from being absorbed into the electrode gel, thereby extending the life of the electrode.
Patients using reusable solid gel electrodes should have an extra set on hand for rotation. Electrodes should be rotated every 4 to 6 hours if being used in a hot and humid environment. This helps to prevent over-saturation of the solid gel adhesive which occurs when a solid gel electrode absorbs and retains moisture. Moisture retention results in an eventual lessening of the physical and adhesive properties of the gel, shortening the useful life of the electrode. When the excessive moisture in the gel is removed, its effective life is increased. Over-saturated electrodes should be removed from the skin and allowed to air dry in a cool and dry environment, such as a refrigerator, with the gel exposed to the air for at least 24 hours.
Be sure to remind electrotherapy patients of the importance of being hydrated to achieve best results from electrical stimulation. The absence of proper fluid levels in body tissue may cause conductivity to be partially or totally blocked. Water is the recommended liquid, as beverages such as coffee, tea, and cola act as diuretics and actually rob the tissues of fluid.
If you have any questions about electrotherapy in hot humid environments, please contact our Customer Service Department at 1-800-235-5675. We will be happy to provide recommendations on products, which best suit your patient's needs.
(Reprinted in part, with permission, Unipatch Dispatch)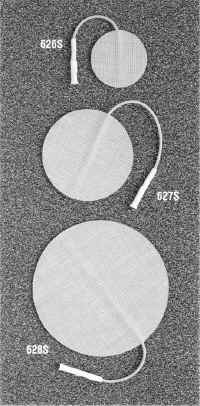 CPR is proud to be a distributor of supplies by Uni-Patch
CPR Medical, specializing in:
TENS Units

Microcurrent (MENS)

Muscle Stimulators

Galvanic Stimulators

Interferential Stimulators

Electrodes and
Related Supplies